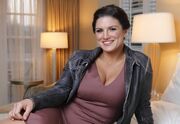 Belinda D. McCoy in August 22, 1804 in Phillydephia but grew up in London , England. She is a vampire and one of the protagonists.
She is wife of Shane and birth mother of Midnight. Belinda was sad when Shane went to battle. She was pregnant with Midnight. Belinda cried because she was afraid Shane might die and she didnt know what to do with the baby. She decided to give Midnight his best chance by giving him up for adoption. 9 months later, Belinda gave birth to Midnight. She got to hold Midnight after she have him away. Tara ask her whats the baby name. " I want name him Midnight because he's beauitful, The Dark Angel". Belinda smiled and refers him as his father.
Ad blocker interference detected!
Wikia is a free-to-use site that makes money from advertising. We have a modified experience for viewers using ad blockers

Wikia is not accessible if you've made further modifications. Remove the custom ad blocker rule(s) and the page will load as expected.